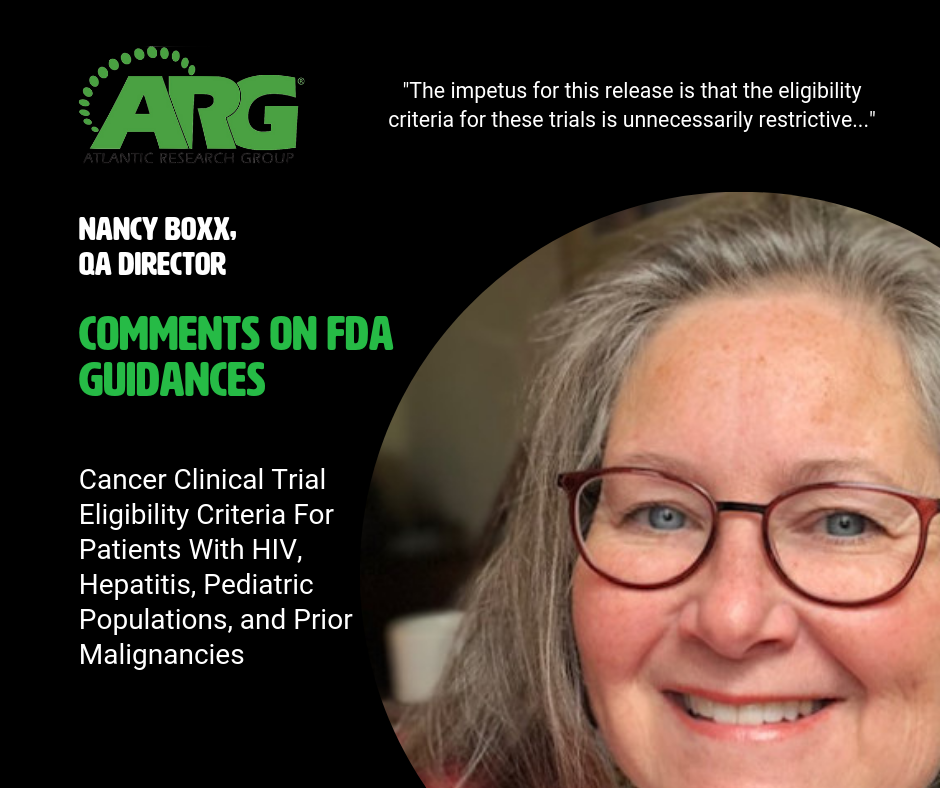 Nancy Boxx, ARG Director of Quality Assurance, has provided comments for a piece on Outsourcing-Pharma.com that addresses the new FDA guidances that seek to broaden patient participation in cancer trials. The article, written by Melissa Fassbender and published March 15, 2019, is available here.
This is a full transcript of Nancy's comments:
The FDA, CDER, and CBER offices released four draft guidances this week focusing on the eligibility for certain patient populations in oncology clinical trials. They focus specifically on inclusion of patients with HIV, Hep B and Hep C infections, pediatric patients, patients with organ dysfunction, patients with prior or concurrent malignancies and patients with brain metastases. The impetus for this release is that the eligibility criteria for these trials is unnecessarily restrictive which ultimately limits patient access to clinical trials leading to results that poorly represent the complete target patient population that will be treated with the approved product in the future.
What are the most important updates in each?
1) HIV, HBV and HCV are now encouraged to be included in trials depending on their immune function, HIV therapy, liver function assessments and HCV therapy depending on titer assessment.
2) FDA is now encouraging enrollment of pediatric subjects after the initial evaluation of the adult safety and dosage data has been obtained in conditions where the trial offers the prospect for a direct benefit which outweighs the risk. A full adult clinical trial followed by a separate pediatric trial would no longer be necessary. It could be accomplished by using a pediatric cohort after a sample of acceptable adult data had been obtained.
3) Because patients now live longer with concurrent conditions such as organ dysfunction and malignancies FDA is now encouraging the inclusion of patients with mild to moderate renal, cardiac and hepatic dysfunction or impairment to be included once PD/PK data has been obtained and the inherent limitations of each dysfunction has been assessed. In addition, patients with a history of prior or current second primary malignancies are to be included. This will allow these studies to include an older population that has been unnecessarily excluded due to conditions patients now are living with successfully.
4) With the number of patients living with brain metastases rising the FDA feels it is important for this group to be included in early phase trials in cancers where metastases are likely. This can be accomplished using separate cohorts for these subjects or by analyses by subset of these subjects. Even subjects with active brain metastases can be included if their physician feels an immediate CNS treatment is not required.
What are the benefits to these patients?
The possibility of:
inclusion in clinical oncology trials they have been routinely excluded from in the past;
a decrease of risks associated with off label use;
acceleration of the development pace for pediatric patients;
allowing for appropriate CNS pre-screening, which has been avoided in some cases to avoid a potential exclusion.
What are the advantages to researchers?
This will impact protocol design or support master protocols that might include staggered cohorts for some of these patients.
What are the next steps?
The FDA is taking these steps to encourage the widening of the inclusion criteria to allow for a broader representation of the populations they intend to treat. Comments or suggestions from the public may be submitted to the FDA within 60 days.