Shay Brill Earns Master's Degree in Clinical Research Administration from GWU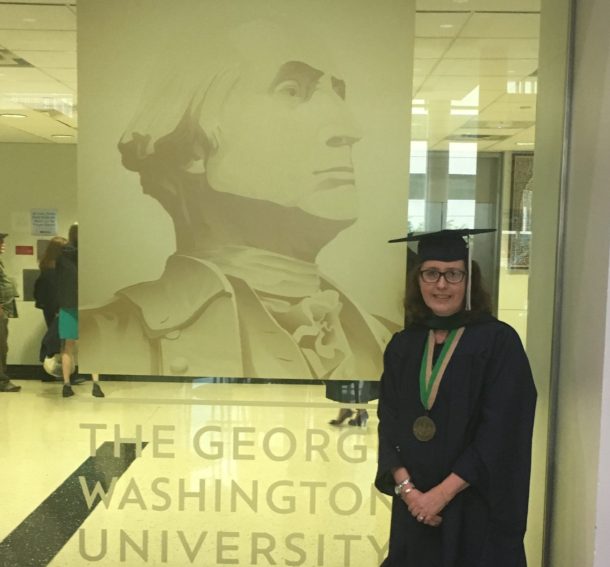 Why did you choose to pursue this MS?
Shay: "My goal was to verify my industry knowledge through formal studies. All of my previous learning had come from 'on-the-job' experiences, certificates from numerous organizations, and online training. I also felt the need working in a small and growing CRO to study the latest information and insights at an institution like George Washington University."
What were the challenges you faced in going to graduate school online?
Shay: "There were times we used video to record assignments or introductions but most of the interactions were on a tool called Blackboard. When it was time for major assignments, I would shut down social activities to work on school projects during weekend hours. My mom's farm did not have internet, so every month when I went home to visit my parents, I would drive to the public library or work from the church parking lot. After the first few classes, I invested in satellite internet for the farm and somehow, am still paying for mom's service!"
What were the challenges you faced in balancing work (and life) with graduate school?
Shay: "My first challenge was going to school and working. I would do my 'day job' at ARG and then start school work around 7- 8 pm. The time requirement going into this was estimated around 15 hours per week and that stayed true for each and every class. With this in mind, another challenge was finding time for my friends– who were certainly supportive but missed me at social events.

Please briefly describe your capstone project.
Shay: "When I sit back and think about my project, I was really doing two capstones. Every student was asked to critique a change management initiative at the American Cancer Society. On top of that, I had to come up with my own change initiative and create a presentation based on extensive research–and in my case, career experience as well.
My project focused on recruiting and retaining rare disease patients. It was an opportunity to look into the traditional literature and propose that recruitment methods should be more patient-centric. For example, sites could be activated after patients are located (instead of the site-then-patients approach currently employed).
Presentations were structured around the four stages of change outlined by Brian Golden in Transforming Healthcare Organizations (2006). We had a limited number of slides and specific content requirements. At the end of the course, we made formal presentations and students were able to provide feedback."
What distinctions (if any, and the degree is more than enough!) did you earn (like awards, honors, etc.)?
Shay: "I received the Ozgur Ekmekci Interprofessional Leadership Award. I call it my OSCAR! I was nominated by Joan Butler, Program Director for Clinical Research Administration, Assistant Professor of Clinical Research and Leadership. I was one of two to earn the distinction– I was the online recipient while Dustin Burkman represented the campus. Ozgur Ekmekci was program director for the Health Care Quality Master's Program from 2007 to 2013, member of the Faculty Senate Research Committee, judge on the University Hearing Board, and founder of the steering committee of the GW Academy of Distinguished Teachers. Unfortunately, he passed away suddenly on 19 September 2015. This award was initiated two years ago and given to students that embody leadership in clinical research."
How will this MS help in your day-to-day role moving forward?
Shay: "In the end, I feel a deep responsibility to use everything I have learned both in the field and in the classroom to make an impact on other people. After earning this degree, I should be able to better envision the patient journey. In addition, I will continue to develop in-house talent using the latest best practices, and continue to communicate to business partners how ARG is uniquely positioned to handle rare disease clinical trials."