NCCSQA Webinar: Quality by Design, Presented by Jennifer Stanislawski, ARG QA Auditor II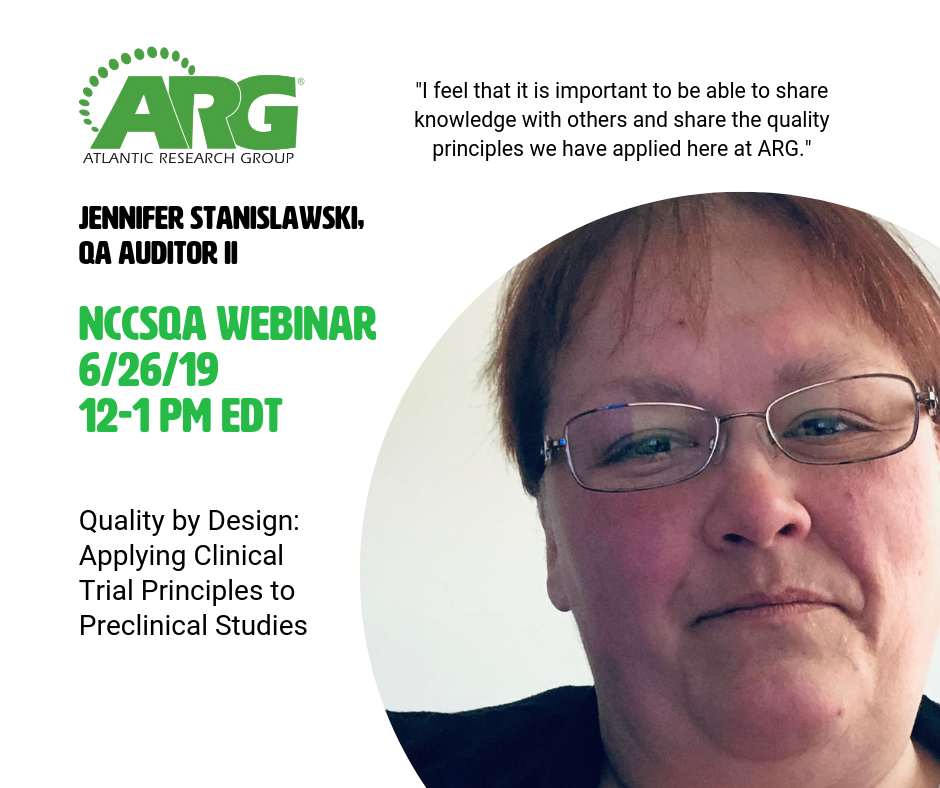 Jennifer Stanislawski, ARG Quality Assurance Auditor II, will be be presenting "Quality by Design: Applying Clinical Trial Principles to Preclinical Studies" via WebEx on Wednesday, June 26, 2019 from 12:00 – 1:00 pm EDT. Please register for the online webinar presented by the North Carolina Society of Quality Assurance here.
Jen explains the presentation content as "taking quality principles applied in GCP (Good Clinical Practice) clinical trials and applying them to preclinical GLP studies." She goes on to say that the key takeaways of WebEx will be "being able to utilize different quality techniques to help manage and minimize risk — essentially being proactive versus reactive." In terms of audience, the talk will be geared toward "primarily quality assurance auditors, but potentially to study directors or project managers as well," Jen says.
Jen is clearly looking forward to the event: "I was asked by one of my former mentees to present to the local QA Society in NC. I was thrilled to be asked to do this presentation. I feel that it is important to be able to share knowledge with others and share the quality principles we have applied here at ARG."
NCCSQA Webinar Description: In 2015, the Clinical Trials Transformation Initiative (CTTI), in order to increase the quality and efficiency in clinical trials, put forth recommended principles and tools that they called Quality by Design (QbD). The intent of QbD was to understand what data and processes lend to a successful trial by identifying and managing important and likely risks upfront in order to improve the quality and outcomes for clinical trials. In this presentation, the audience will learn the history behind and what QbD is about, a real life example of how the concept is being used, and how it can be translated and applied to GLP.
To learn more about ARG QA, please contact
bsinsel@atlanticresearchgroup.com