CIS Annual Meeting 2019 in Atlanta: International Presence, PID, IVIG, and a Popular Booth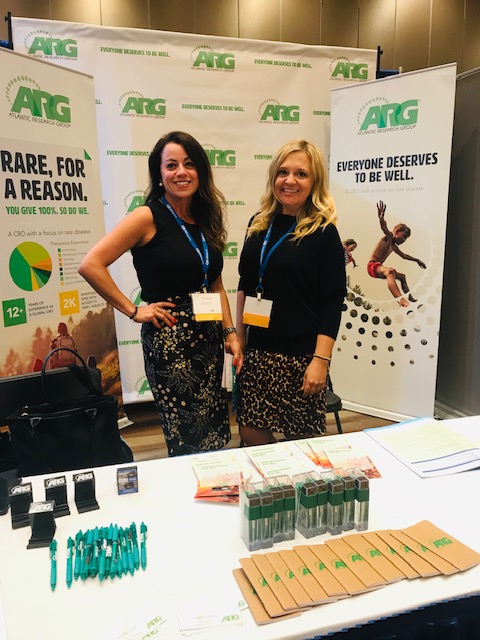 ARG Project Manager Amber Schroeder and Clinical Research Associate Corina Moorehead attended the CIS Annual Meeting in Atlanta April 4-7. Each of them made some interesting observations about the conference as a whole, and specific topics in the sessions they attended as well.
Overall, they both saw a strong international presence at the conference, having met individuals from a diverse set of countries, including Canada, Australia, Uganda, Korea, and Brazil. The ARG message of "Everyone Deserves To Be Well" certainly resonated with them, as they stopped at the ARG booth to talk about their focus on bringing much-needed products and clinical trials to their countries.
Many of the international attendees explained that they were at CIS to bring attention to the serious medical situations in their home countries. Corina said that "many PIs expressed frustration about the lack of awareness in PID." She went on to state that the general sentiment was that "the immunology community needs to bridge the gap between IP availability and patient care, especially in populations where IVIG is scarce."
In terms of the sessions, the majority that they attended revolved around case studies related to PID cases. Amber noted that "several focused on therapeutic advances in clinical immunology and provided updates on NIH funding of PID clinical trials." For Corina, one key stat that got her attention was that "90% of patients show improvement with IVIG, and that since many other diseases stem from Immunodeficiency, such patients would benefit from monthly IVIG."
Because ARG was an exhibitor, both ladies were not only able to engage other conference attendees in their expertise in immunology, but share some lighter moments as well. Amber said: "Our table was a hit– between the great giveaways and revolving Jenga games, we had a lot of traffic at our booth."
Please learn more about Amber and Corina here and more about ARG's commitment to immunology here.